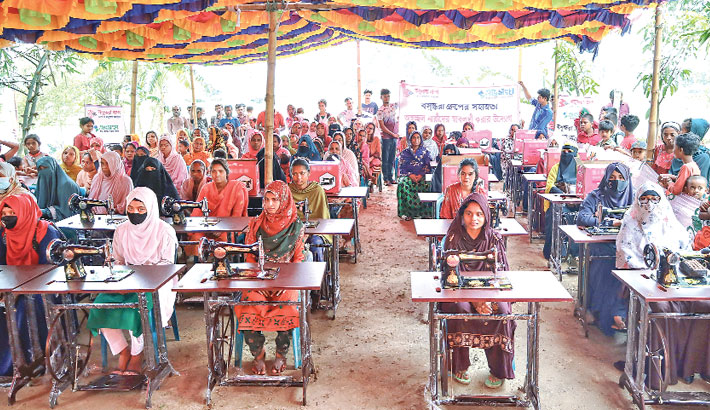 Bangladeshi student Sanjida Islam Choya has been named one of the 100 influential women in the world by BBC. She hails from Zhaugora village at Nandail and a member of Shuvosangho, a social welfare organisation of Bashundhara Group's vernacular Bengali daily Kaler Kantho.
She made headlines by fighting child marriage in her area. Bashundhara Group established a sewing training centre in her village for women emancipation. A number of 40 insolvent women received training from the centre. Of them, 20 women initially got sewing machines at a ceremony on June 17. Imdadul Haq Milan, famed litterateur and Editor-in-Chief of Kaler Kantho, handed over the sewing machines to the women. Lawmaker from Mymensingh-9 constituency Anwarul Abedin Khan Tuhin, Upazila Nirbahi Officer Md Abul Mansur, agriculture officer Md Anisuzzaman, Upazila Parishad vice-chairman Manowara Jewel, Kaler Kantho senior assistant editor and director of Shuvosangho Zakaria Zaman, and its Nandail upazila unit president Sohagh Akanto, among others, were present.
Ruma Akter was one of the insolvent women to have received the sewing machine. Despite having honours degree, she was jobless. The poverty-stricken family could not arrange her marriage. A few years back, her father passed away and situation of the family aggravated further. Her mother was unable to bear costs of five daughters and one son. Her brother took up job of pickup van driver to support family. Ruman remained unmarried amid extreme poverty. After receiving training and sewing machine, Ruma Akter, 35, is about to take the helm of the family.
Another recipient of the sewing machine is Maina Akter, 27. She belongs to a landless family. Her two brothers are day-labourers and they struggle to bear the family with little earning. Although Maina learnt tailoring, she could not afford a sewing machine and earn money. She is dreaming to change fate after getting sewing machine from Bashundhara Group.
Sanjida Islam Mim is a 10th grader in a local school. She is the second of three children born to her parents. Her father Shahidul is a day-labourer. He is physically sick. Poverty was about to block her study. But training coupled with sewing machine has paved the way for uninterrupted study and a good future.
After passing the SSC examinations, Lamia Khatun, 17, could not be enrolled into college for lack of money. She rejected a marriage proposal going beyond wish of her mother. However, her housemaid mother could not bear the cost of study. She got admitted to the college with the support of the Shuvosangho. She is dreaming to continue her study and support family after getting a sewing machine.
Meanwhile, Purnima Rani Barman, a college student, is happy with a sewing machine. Her family is passing through hardship after death of her father – a fisherman. She obtained tailoring training and a sewing machine from Bashundhara Group.
"The sewing machine has ushered in a new hope and aspiration. Apart from continuing study, I will support my family."
Poverty prevented college admission of Alaka Rani Barman. The situation deteriorated after her father lost eyesight. The whole family plunged into darkness.
She said the sewing machine will enable her to continue study and stand by the family.
Konika Akter, 26, said sickness of her husband has brought economic hardship to the family. She learnt tailoring from Shuvosangho and received a sewing machine. She was overwhelmed by the charity of Bashundhara Group.
Ten year ago, Moina Akter lost her father. She took up a job of housemaid to support family. She could not get married for failure to pay dowry. She has to face criticism for delay in marriage. But firm determination took her to Shuvosangho training centre. Finally, the sewing machine has created a confidence in her mind to be economically emancipated and make the family solvent.
Speaking on the occasion, Upazila Parishad vice-chairman Manowara Jewel said, "I heard of Bashundhara Group's charity. But today's programme has brought an opportunity to see the magnitude of charity and be impressed. Public representatives like me speak about social welfare but fail to do so. But Bashundhara Group is driving the downtrodden women to solvency. It is unprecedented."
Upazila Nirbahi Officer Md Abul Mansur said, "The social welfare programmes of Bashundhara Group deserve much appreciation. If others follow the example, it will be easy for Bangladesh to be a developed country by 2041, a time set by the government in this regard."
Anwarul Abedin Khan Tuhin MP said, "The way Bashundhara Group pushing women to solvency is really encouraging. I tender my heartfelt good wishes to Bashundhara Group Chairman Ahmed Akbar Sobhan, Managing Director Sayem Sobhan Anvir and their family members."
Imdadul Haq Milan, Editor-in-Chief of Kaler Kantho, said, "We are working to change fate of the marginal class of women with the support of Bashundhara Group. The largest industrial conglomerate is contributing to the socioeconomic strides of the country. Today's recipients of sewing machines will earn money and buy more sewing machines for other members of their families, triggering collective income. We are granting stipend to needy students, constructing schools and libraries in remote and underdeveloped areas, alongside training centres."
Bashundhara Group Chairman Ahmed Akbar Sobhan has ordered establishment of training centres at all districts and upazilas to leave no woman unemployed, she added.
Daily Sun